Shipping Information
1. Shipping Tips
Please be aware of the following restrictions, and our tips to ensure your order is delivered in a safe and timely manner.
An adult signature (21+) is required for delivery. Carriers will not leave packages unattended regardless of having a signature on file.
Utilize FedEx Delivery Manager. This gives you the power to customize your home deliveries to fit your busy life!
If possible, we recommend shipping to a business address where the package can be accepted throughout the day and week. Note: Our packages are labeled as containing wine and requiring an adult signature -- so you may want check with your employer first. We've found that most are willing to accept delivery (even more so if you offer to share!).
If you are shipping a gift, please alert the recipient so they can expect the delivery. We know it spoils the surprise -- but we think it's a better alternative than spoiled wine.
Monitor your Order Status and Tracking each time you order. If necessary, Contact Us and we can place a hold on delivery or reroute to a new address within the state.
For East Coast customers, we recommend ordering on the weekend or early in the week. This will ensure timely delivery and avoids the potential of your packaging sitting at a facility over the weekend. This will also help prevent any weather related issues. See our Shipping Times for further information.
2. Shipping Rates
Wine is heavy (and expensive) to ship, so we offer simple, discounted flat rate shipping! Shipping on a case (12 bottles) is just $10 to anywhere in the US (excluding AK and HI), and orders of 24 bottles and over (in increments of 6) ship for free. The table below provides further detail on our shipping rates.
3. Holiday Shipping
The last day to ship for delivery by Thanksgiving Day will be: Nov. 18th for the East Coast and Nov. 20th for the West Coast.

The last day to ship for delivery before Christmas Day will be: Dec. 16th for the East Coast and Dec. 19th for the West Coast.
The last day to ship for delivery before New Year's Eve will be: Dec. 23rd for the East Coast and Dec. 24th for the West Coast. After those dates we recommend using FedEx 2-Day shipping.
4. Shipping Methods
Currently we offer shipping via FedEx Ground, FedEx Home Delivery and FedEx Express 2-Day. Please see Ground Shipping Times for more information about delivery times for Ground and Home Delivery.
Sorry, we are unable to offer in-person pickup at our San Francisco office or warehouse at this time.
5. Wine Shipping Restrictions
We are only able to ship to states which have laws that permit shipment of wine directly to consumers. These states currently are:
Arizona, California, Colorado, Connecticut, District of Columbia, Florida, Georgia, Idaho, Illinois, Indiana, Iowa, Kansas, Louisiana, Maine, Maryland, Massachusetts, Michigan, Minnesota, Missouri, Montana, Nebraska, Nevada, New Hampshire, New Jersey, New Mexico, New York, North Carolina, Ohio, Oregon, Rhode Island, South Carolina, Tennessee, Texas, Vermont, Virginia, Washington, West Virginia, Wisconsin and Wyoming.
The laws regarding the direct shipment of wine are constantly changing. We will expand our service area when laws permit. We are optimistic that these restrictions will gradually disappear as consumer demand around the direct shipment of wine grows.
For more information and a state-by-state analysis of direct shipping laws, please visit the Wine Institute site.
6. Age Disclaimer - 21+ Signature Required
Wine may be sold and delivered only to persons who are at least 21 years old. By placing your order, you represent to us that you are at least 21 years old and that the person to whom delivery will be made is at least 21 years old. When your wine is delivered, the person receiving delivery may be required to show identification proving that he or she is at least 21 years old. Wine will not be delivered to a visibly intoxicated person.
Certain state laws regulate the number of cases of wine that can be shipped annually to a single person. If your order is affected, we will contact you.
All packages are labeled as containing wine and as requiring an Adult Signature. Carriers will not leave packages unattended regardless of having a signature on file.
7. Weather
Cameron Hughes Wine assumes no liability for wine damaged due to poor weather during transport or delayed delivery. Please check weather conditions prior to order and ensure that someone (over the age of 21) will be available to receive the wine upon delivery.
The most frequent cause of damaged wine is due to multiple delivery attempts -- please monitor your package tracking and follow our tips to ensure delivery.
During the summer months we offer a "Buy & Hold" program for a small fee. This program allows you to purchase wine and held in our temperature-controlled warehouse for shipment in the fall. We encourage customers living in warmer climates to take advantage of this program.
8. Shipping Times
This map shows approximate shipping times for FedEx Ground and FedEx Home Delivery shipments. Orders received before 12:30PM PST are typically processed and shipped within 24-48 hours. You will receive an email confirmation when your order has shipped. Sorry, Cameron Hughes Wine is unable to guarantee same-day shipment or shipping transit times.

Please note: During the holiday season, refer to our posted holiday shipping recommendations or subscribe to ouremail list for specific dates.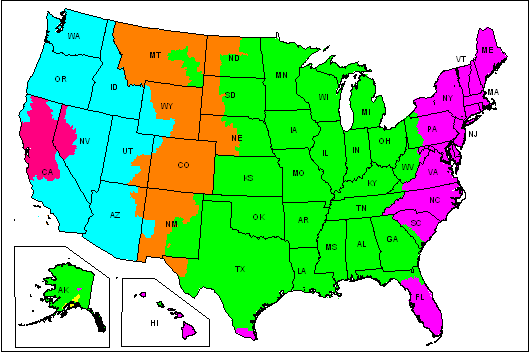 Please note:
The map above is a general representation of transit times for FedEx Ground shipments to commercial destinations. In limited areas, transit times may differ between shipments to commercial and residential destinations. For specific transit time information from one ZIP/Postal code to another, please go to Get Rates & Transit Times under the Ship tab on fedex.com. The origin ZIP code for your shipment is 94603.


FedEx Ground business days are Monday through Friday (excluding holidays). FedEx Home Delivery business days are Tuesday through Saturday (excluding holidays).

Example: A package shipped via FedEx Ground on Monday with a transit schedule of 2 business days, (not including the day the package is shipped) would be expected for delivery on Wednesday. A package shipped on Friday with a 2-day transit schedule would be expected for delivery the following Tuesday.
9. Shipping Outside of the U.S.
At this time, Cameron Hughes Wine only ships within the United States.
For more information about us, email us at info@chwine.com, or call 1-800-805-1971, M - F, 9:00am - 5:00pm PST.